First off, I'd like to say that last night's post isn't a "woe is me" type thing — not at all. Once Spencer was born I was fully aware why it took so long to get pregnant with him. God makes my life completely perfect for me, of that I'm aware… although I wish I could be done with the baby period of my life. I'm fairly sure at some point our garage will collapse what with all the baby clothes stored in the ceiling. But I walk by faith, and that's that. Just wanted to share that part of our lives with my peeps, I've had some great responses, which is just what I wanted.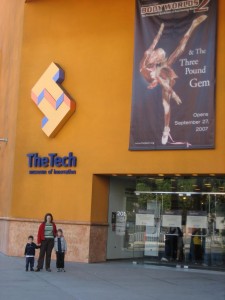 NOW, back to our "holiday" yesterday. That's right — it's an exhibition of cadavers that have had their skin removed and have been plasticized, and we LOVED it. If you go, be prepared for questions from your kids (the site actually recommended it for kids over the age of 10 — I for SURE wouldn't send my kids without me til' that age, but if your kids are squemish or bodies aren't something you're willing to talk openly about, I would use 10 as a guideline, however my kids LOVED it). Yes, these cadavers are completely nude (both with no skin and with no clothes). So, I just made it a game to see if they could tell me the gender of the cadavers. Conner got pretty good at it, Spencer still thought they were all boys.


Except for the one with ballet slippers.


The best parts for me were when they showed diseased organs. To see how the organs actually look, with smokers lung, or an anurysm, or kidney issues, it was just AMAZING to me. I'll tell you that my kids are fully aware of what smoking does to a person. It was so interesting to see them walk up to a body and say "he smoked, ewwww!" — the lungs are SO dark. Disgusting.
Anyway, good luck to Ms. Dodson during morning meeting. Conner said he had a lot of things he wanted to share about going. I am hoping none of them revolve aroudn finding the boys and the girls.
Oh, and I sent my blogger book in for publishing. Total cost is going to be around 65 dollars, but I think it will be worth it. I crammed all of my 2005-2006 entries in one book. It took a fair amount of time, but less then I thought it would. I will let you know when it comes.
Also, I'm trying to change my banner (I am shocked that it's the 13th and I still haven't made a new one)… stupid blogger isn't uploading it. Will try again later, sorry for the eyes until it's fixed.


Like This Post?

Stay in touch with Pulling Curls by signing up for our newsletter. Get JUST the information you want, sent direct to you!
Happy to have you as a subscriber!