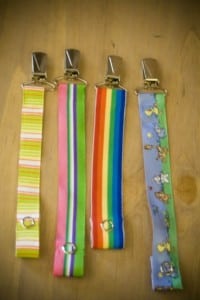 I've been obsessing over the need to make some binkie clips (the pacifier clips onto the bottom of these). J's just happened to have notions 40% off last night, and that's the majority of the cost of these. I think the suspender clips are about 1.75 after discount (2/package), and the snaps were like 2 bucks after discount. Total cost for all 4 was 6.21. I know people sell these on etsy for around 5-1o bucks each. I think it took about 2 hours to make all 4, but I was also chatting on facebook at the same time.
Anyway, I miss it when I'm not creative. I mean, my back still hurts from sewing those clips last night… but I do find a lot of joy in fondling the finished product. If anyone wants further tutorial in making any of these, let me know. Really — all were VERY simple (well, not the blurb book — but it's worth it).
The MOM CONFERENCE is coming and it's FREE -- lots of great speakers, sign up now!