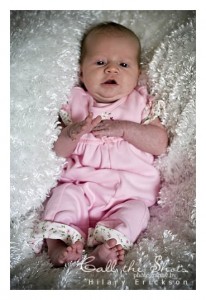 Guess who got a photo shoot this morning! Guess who's already edited them, instead of vacuuming like I should be.


P has a brand new outfit courtesy of the new Kid to Kid nearby. I think I got 11 outfits and a pair of shoes (full outfits) for about 48 dollars. Right now they're having a buy 2 get 1 free sale on baby's clothes (anything below size 3). Also, if I refer you, you can get 3 dollars off your purchase. I think you need my phone number, which most of you have — but if you want it, you can email me. ETA: I just emailed the store owner, he said that if you go-in with my name they will give you the credit. In an effort for full disclosure, I also get 3 dollars store credit if you use my name — but I am fine if you don't even use my name… however, you won't get 3 dollars off.


I also have an email for 5 off a 30 dollar purchase, which makes it an even better deal (I can forwards you that email if you want it). For just an idea of pricing — this outfit was 6.99, but I got a lot of other cute summer things for 3.99 and under. They have a lot of name brand items, as well as store brands, etc. Yesterday, I even saw a few items I'd like to take C back to try on (they have boy's sizes up to 12, and I think the same for bigger girls).
Anyway, it's a great way to shop (for those of you who don't know Kid to Kid — they sell gently used children's items — and most everything I've ever seen is in great condition — and many of the items still have their tags on — the items I have for P look brand new). They have clothes, toys and baby gear. Anyway, they're not paying me to advertise, I am just grateful when I don't have to pay full price.


Like This Post?

Stay in touch with Pulling Curls by signing up for our newsletter. Get JUST the information you want, sent direct to you!
Happy to have you as a subscriber!