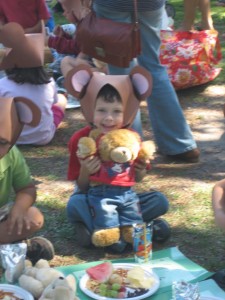 Who here is still in disbelief that Spencer is old enough to go to Kindergarten? Oh, he's been going long over a month — but it's still a shocker to me. He is LOVING it though, and he was really SO ready for school.
This picture is him at the Teddy Bear Picnic. I love how they celebrate their "little-
ness
" in Kindergarten. I know that goes away all too fast, and soon it's not cool to bring your teddy bear with you to school. It was cool this day, the Teddies even had a sleepover after school (I guess the teddy
bear's
mom and dad are more permissive than Spencer's).
This isn't to say that Spencer hasn't had a hard entry into school. Being gone all day, when he was used to being at home with me has been a bit of a struggle — not at school, just when he came home and had to slink back into a normal life not filled with songs, crafts and adoring fans.


Spencer is slowly realizing that life is full of responsibilities. He's not a big fan of personal responsibility and seems to think we all need to pick up his slack, or lack of abilities. When summer was coming to a close, I made a mandate that Spencer had to open all lunch items on his own — string cheese, granola bars, etc. It caused a great deal of tears — but he's getting it now. That doesn't stop him from begging me to open a
gogurt
every now and then.
His most frequently uttered phrase is "
CoOOOOOOnnnneneEEEER
". It can be for a variety of reasons. Conner touched him, Conner isn't doing something S needs, Conner
is
doing something. Poor Conner. Poor my ears.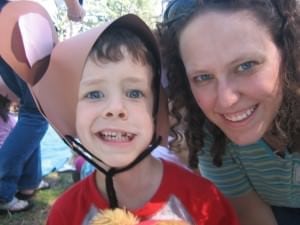 Five adjectives for Spencer at this age:
1. Smiley (he's a fairly happy guy)
2.
Whiney
(when naming Conner, I was unaware his name had 6 syllables — Spencer proved me wrong)
3. Smart (his writing at school is A-
mazing
)
4. Naked (people lucky enough to be my
facebook
friends might remember the day he and his friend were having a pants-
ing
battle… modesty is an issue we're working on)
5. Popular (he's well-liked by his classmates — at least from what I've seen)
Like This Post?

Stay in touch with Pulling Curls by signing up for our newsletter. Get JUST the information you want, sent direct to you!
Happy to have you as a subscriber!