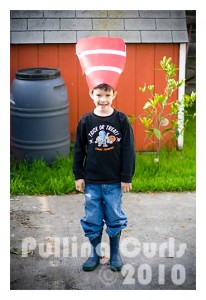 Spencer has been having a lot of fun in Kindergarten. Recently they celebrated Doctor Suess, and can you pass-up a picture as fun as this one? I must admit, I don't remember making NEAR as many hats as these kids do in K.
Conner is getting better. We've enforced proper eating (and I'm just talking sitting in our chair here, no "pinky-up" type rules here!), and we're having talks about how he's doing in school each day. The teacher's staying in close contact too. I'm remembering to give a lot of love in the times that I'm enforcing a lot of rules too. I'm also giving out some chewy spree for jobs well done. Reall, what woudn't YOU do for a chewy spree?
P is growing every day. She actually took 2 steps last night. She likes to make squishy faces and she speaks by blowing out her nose. She really likes it when we "speak" back. What a fun gal she is.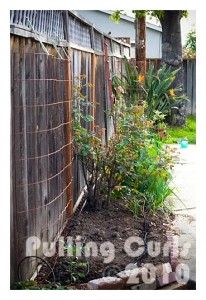 Speaking of growing, the garden is in! I am so in love with how great everything looks! I have tried to not have too high of expectations, since last year seemed to be a funk. However, we bought a compost bin, and we composted all summer, turning weekly and had some great compost, and were able to add an inch or two on top of all our soil this spring. After letting that sit for a while we mixed it all together and got ready to plant. Last week Drew and I put EVERYTHING in on Tuesday. I was SO sore for the rest of the week, but I'm glad it's in, and the temperature's been warm and a bit of rain is scheduled for the end part of this week. I hope it's not too hard so our plants just get drinks, not drowned. Low expectations, high hopes. That's my motto for the garden this year. BTW, I'm following the square foot garden philoisophy, splitting our garden up into feet. We'll see how that works since it's all edges. I have found a great
blogger
that's really informative and helpful.
Spring really is a time for growing (and allergies). It's exciting to see all the things growing at my house, except my waistline. For once, that's actually shrinking!


Oh, and I'd like to call your attention to the upper mid-right. Someone is going to start updating her photography blog. This isn't to say that I will be amazing. I mean, I might… but I'm trying to give some helpful photography tips, and perhaps post some of my most favorite photos. Also, you'll be able to see when I update on those blogs, makes it easy-peasy…
Like This Post?

Stay in touch with Pulling Curls by signing up for our newsletter. Get JUST the information you want, sent direct to you!
Happy to have you as a subscriber!