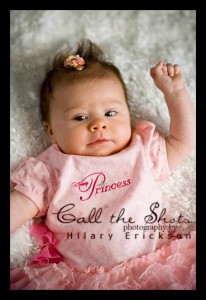 Is it the most amazing photo I've ever taken, no.
But I love her mom, and her grandma… and her grandma babysits Paige every other week so I can help out at school and I'd do just about anything to pay her back.


Even though I didn't renew my business lisence I can still take pictures. I love doing it and editing them and seeing the real beauty in a person come through is really a joy for me.
I think what I love most about this is that little arm. So darn triumphant as a little princess. I wish I could feel triumphant like that more often. My plans always seem to get derailed. I should feel "confident, dry and secure" more often.


Don't mess with this girl. She's take you out.


Like This Post?

Stay in touch with Pulling Curls by signing up for our newsletter. Get JUST the information you want, sent direct to you!
Happy to have you as a subscriber!