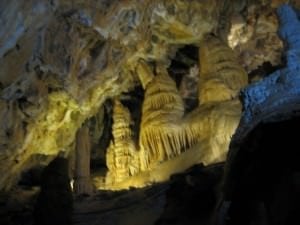 We went to Minnetonka Caves on this trip.
Man, that place has a lot of stairs. I don't actually know of any caves that we have around here, so going there seemed like a good plan.
Did i mention a lot of stairs, 444 one way… and that's right, 888 total. Good math skills!


The kids were troopers though. Spencer had been sick, and I worried that Drew would be hauling him out, but he did great on his own. I, had P and I'm pretty sure this trip alone made it so I only gained 4 pounds on the "vacation".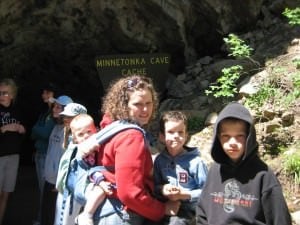 Then, it off to Labeau's for shakes rewarding us for a job well done. We really liked the cave… but a favorite is when the guide turned off the light and sang hold to the rod while we did a few rooms in the dark whole holding to th hand rail. And no, I'm not kidding. Please feel free to see the "Crazy Utah" post.


Like This Post?

Stay in touch with Pulling Curls by signing up for our newsletter. Get JUST the information you want, sent direct to you!
Happy to have you as a subscriber!