The couch is here, the couch is here!
This morning (bright & early, I might add) the couch came to our lovely home.
We went from this:


RC Willey Circa 2001
To this: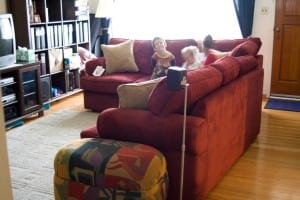 Robert Michael Circa 2010
Look, it still even has the tags on!
I love it, it's super comfortable, and I hope the microfiber is as great as the lady said it would be!
One issue, is that they said it would bolt together. But. It does not. My kids are showing this couch the love it so deeply deserves, but it's slowly moving to the corners of the room…. My hope is Mr. Russell can fix that and make ALL my dreams come true.


ETA: Somehow, looking in our living room make me feel extremely grown-up… this is the first lot of entire furniture that was all bought by us (as first owners) and actually goes together…
amazing.



Want to find more joy?
Pulling Curls is a blog for the overwhelmed to find more joy. Be it a laugh in something I share or tips for everyday life. Don't miss out!
Happy to have you as a subscriber!
Similar Posts from Pulling Curls: