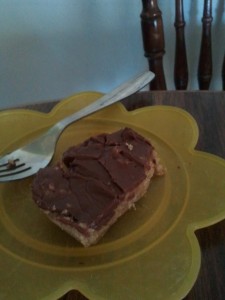 They are possibly holy…. all I can say is I had a spiritual experience once I tasted them…. SO good, just THAT good.


I was looking around for a good recipe. I wanted to make some for a dear teacher that is getting up there in years who our family just thinks is snazzy…
I googled "Peanut Butter Bars" and I saw that Deals to Meals has a recipe, they're always the best… and they were. Here's the link.
Like This Post?

Stay in touch with Pulling Curls by signing up for our newsletter. Get JUST the information you want, sent direct to you!
Happy to have you as a subscriber!