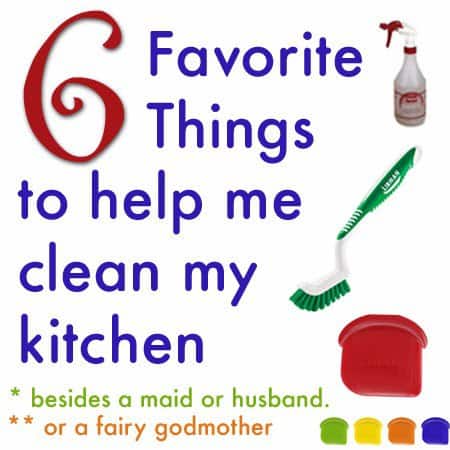 Here are 5 of my favorite things to clean in the kitchen with:
1.  Spray bottles — I like to mix my own cleaner and I LOVE high quality spray bottles that give a good mist and don't get clogged.  I got a good sized pack at Costco.  I swear the Walmart ones never work as good.  Be sure to LABEL THEM because you can't remember everything.  Can you? 🙂
2.  Antibacterial wipes — sure
I try to just use my vinegar spray most often, but it's not the same as just pulling out one of those wipes.  Mostly, those wipes are SO easy to clean the kitchen with.  Kirkland are my favorite, way over the name brand.  Love them.  I have seen that windex pump and go stuff, does anyone like that?  It does look appealing.
3.  I love these little flat scrapers.  Most of the time I use my finger nails, but this just seems better.  I use them to clean pots, pans, goop off stuff.  It's just crazy handy and they don't scratch, unilike a butter knife!
4.  My Steamer.
  As much as I love an antibacterial wipe I still steam my counters about every 6 weeks, and they never get cleaner.  I just spray the steam all over and then wipe with …
5.  Rags
.  I used to go through a LOT of paper towels, but then I read on a few "frugality" blogs about the beauty of rags.  I pulled a bunch of our rags out and I have them in an Ikea bag holder, to pull one out when the kids or me need one.  It does save on paper towel useage, and who needs to use a paper towel when you've just spilled some water.
6.  A brush.
  This isn't actually my brush, any one will do but we have a LOT of tile and nothing really cleans it like some good ol' elbow grease.  My kids will be spending a lot of quality ti
me cleaning our tile over spring break.  Go kids go!  I use it with either homemade grout cleaner (I've tried a few recipes from Pinterest, I'd love to know your favorite!) or the steamer (that has its own grout attachment).  Then, use a rag to dry off!
So, cleaning your kitchen isn't brain surgery.  It's mostly time and effort and a few handy tools will help you get the job done!  Too bad they don't sell elbow grease at Amazon!
You might want to see my weekly cleaning schedule, I clean my kitchen on Mondays, and how much I love vinegar. 🙂