Sometimes my life is just so glamorous…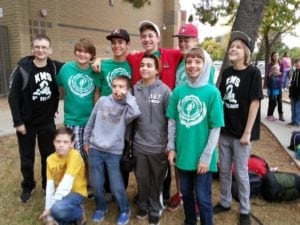 Today I took everyone to school.  I think that is the first time, ever, that has happened.  El Presidante needed to be to school to go to a special school camp this weekend, and it was the same time Spencer was supposed to be there.  El Presidante will be gone until Sunday.  I do wonder what he's doing, but I can't really say that I miss him all that much.  He often does overnighters with scouting, and he already did science camp in 5th grade… it's exciting either way. 🙂
Then it was home to get P some more breakfast, clean her room, do her hair and her teeth before preschool.  I am SO grateful we're doing a carpool to preschool.  Today wasn't my day.  horray.  3 hours of freedom.
I tackled some email until it was time for Costco to open.  My mouse was driving me insane.  It keeps thinking I am double clicking when I was only single clicking.  I bought a new one on amazon.  I hope it's just the mouse and not more.  I adjutsed my window settings to no avail.  TO NO AVAIL.  Freak, mouses aren't important.  Anyway, back to Costco.  I try to only go to Costco once a month.  I had to renew today.  Blech.  I try to remind myself of their awesome return policy that has saved our bacon a few times.  It didn't really work.  I also found a great gift for Drew while I was there.  I had some my little Pony's in my cart for princess P for a while but I just couldn't do it.  I don't get them, at all.  Also, we have some other My Little Ponys and although she keeps asking for them, I don't see the other ones getting played with much.  I bought some chicken stock.  That was kind of exciting.  Oh, and we were low on C and  D batteries AND there was a coupon in the book.  Boo-yaa!
I came home and put stuff away.  Costco ends up a 2 hour trip, I swear when you include putting stuff away.
Then I went to our friend the Internet to find something for Princess P for Christmas.  I'm out of ideas, and I don't want to spend a lot on her this year.  I've done bigger gifts for her the past couple of years and this year she can go a little more lean (we've done a dollhouse and kitchens the past 2 years).  I love the Internet and reading reviews.  I think I found something good, and I threw in one Little Pony for good measure.  I also love free shipping.
She came home from preschool and watched some of her beloved ponies.  Then, I realized the freezer, which was left ajar one night 2 nights ago, still hadn't defrosted, so I took it upon myeslf to do that task.  Yes, this life is glamorous, thanks for noticing.  I think it did the trick though.  I thought maybe it's timer or defroster wasn't working.  Fingers crossed it was just left open (that's right, fingers crossed that we're just dumb people).
I put her down for a nap (aka, singing time in her room) during the defrosting, and I finished that fun task, as well as throwing in the laundry created by that task.  Then, it was back to the computer to design Christmas Cards.  I think Costco has them on special before Christmas.  Or, maybe they don't — but either way it's done.  I still need to write my letter, but one thing at a time.
I was finally done, electronically, when i ate 2 bagels while watching The Good Wife.  Man, I love that show.  I think I may just love Julianna Marguilese, but don't tell Drew.  Speaking of whom, he came home for about 20 minutes (he was gone from about 6 am until probably 11 tonight, with a lovely 20 minute break here with me, he is a lucky man).  The HS football team is in tournament.  yay.
Then, it was off to get Spencer from his Lego Robotics club.  He loves that thing so much.  We are lucky to have amazing teachers at our school who love kids.  SO lucky.
Then, home to try and tidy up the kitchen before I made dinner.  Panninis… and I wasn't particularly hungry after my bagel fest.  Then, my otterbox was driving me nuts, because the outer shell was coming off.  So I Youtube'd a video on shrinking it.  I did it, and it isn't coming off now.  I'm kind of ecstatic about it.  I like it tight (like a dish)(did you get that reference?).  All things in order.  That's me.  BTW, I boiled it.  That's right.  I boiled it.  Take that Otterbox.
Then, we found library books.  Princess P had somehow stowed some in the wrong place, so that made it extra exciting.  I sure do love that my kids love books, and I know a lot of that comes from me hauling them to the library a LOT… but the library is not my favorite things, and losing books just about puts me over the edge, but I found them and all was happy in our home before I put P to bed.
Me and quicken then had some quality time.  Trying to figure out our Christmas budget.  Thankful there is an extra check this month with our 5 Fridays.  Horray for months with 5 Fridays!  I am trying to keep it to moderation with Christmas, yet satisfying.  It's a fine line…  ASU is calling at the end of the year.  SHUT UP ASU, why aren't you free!?
Then, a friend texted me to go on a walk.  I am so lucky to have several really close friends in my neighborhood now.  I feel like the queen of the world with so many support systems near by.  I loved our walk, mostly because I love her.  Just some time to unwind from kids.  Arizona is still lovely at 9 pm.  We are lucky like that.
And there's the glamour in this day.  I know one day I'll miss the coming and going, the boiling of otterboxes, and defrosting of fridges.  Maybe some day I can hire that kind of peasant work out — but until then I am the peasant.  And part of me likes it.  Especially now that my otter box is tight.  Like a dish.