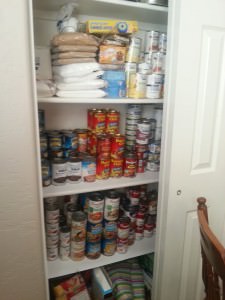 I can't really tell you what a blessing our pantry is to me. My kids love to watch Extreme Couponing with me, and while I am impressed by those people's stock piles, I really wonder if they could LIVE on the items they have. I really love couponing, but I finally had to come to terms with the fact that we needed to spend our money on things we would USE. I used to have about 80 boxes of fruit snacks (and I think they paid me to take them)… but that doesn't give me peace of mind like 20 cans of chili would.
As I rotate around my kitchen, organizing it, I have landed on the pantry lately. I am kind of disgusted by how much joy I find in all those labels pointing forward… but I do find a LOT of joy in it.
Anyway, I would encourage you to start a food storage. It doesn't need to be crazy, and I honestly have no idea how long we could live on the one I have*, but it is a good feeling to know it's there if we need it.
*Instead of figuring out how many months we could survive on items, I instead figured out how much of each item we tend to use along with its shelf life. That leaves me with numbers like 3 bags of pretzles (because while we use a lot of them, I like to make sure they're fresh), and 20 cans of tomato sauce. You can see my food storage sheet here.