This past weekend we traveled to San Diego to my
nephew's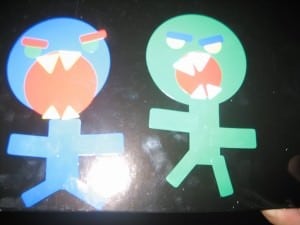 wedding. That's right, an 8 hour drive on Friday (
leaving
after Drew was done with school), to the wedding on Sat. AM and then driving to
Temecula
to the reception, and then a 7 hour drive back on Sunday. All on my tailbone. Just visualize it, feel my pain. And no, a doughnut doesn't work in the car for tailbone issues. I know. I tried. I tried hard, I even took pain pills — and that didn't help either. This picture was created by Spencer one day on his C
olorforms
— but it kind of shows how I felt most of the drive. 🙂 Enjoy it. BTW, kids (especially P) were amazing on the trip, hardly a peep. Love them.
BUT, that's not what this blog is about.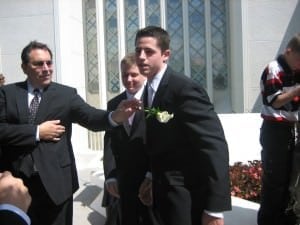 My nephew was married in the San Diego Temple — you'd think I might have a picture of them in front of the temple, but I don't. I didn't have the camera. Instead of this shot. I also have another one where it looks like he's eating his sweet bride. But I digress. I didn't marry Drew for his sweet photography skills.
LDS weddings (as I have stated previously) are for time and all eternity. Those who aren't able to go to the temple (which includes those not old enough, and those who aren't able to answer the questions correctly, aka. immorality, not believing in God, etc.) just sit in the waiting room, or take a little walk (huge props to my other niece and nephew who watched my little peeps). In the ceremony you are sealed together before God, angels and the witnesses. Drew and I had just done sealings a few months ago and I had enjoyed them, but this time I had such a different impression. This time I felt SO strongly that P had been one of the angels* watching our ceremony. In my mind I saw it so clearly. The boys were fine, it was happening, they knew we'd be their parents but they had other things to do. P, however, needed to be there — just like a girl. She wanted to watch our family be sealed. Maybe that's why she was such a dream on this trip, she somehow remembered how important it was. On our wedding day I had SUCH a strong feeling that what I was doing was ABSOLUTE right thing for me to be doing. I actually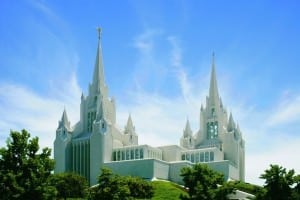 hadn't had that feeling until then. I was kind of going on my gut that it was right. I'd had small confirmations through prayer that he was the right man, and after an interview with the bishop one day I knew I was going to marry him… but I was kind of going on blind faith. Until that day. It's a feeling that has never left me, and when times have gotten to the point I wondered if this whole marriage thing was really going to work out I remember that day. I remember how right I felt and how amazing it all felt.
Anyway, I just thought I should write a blog about it. Impressions are amazing things aren't they? I think it's so important to write them down, and share them if it's appropriate.
* I believe (as our church teaches, but I also have a strong personal belief) that we lived with Heavenly Father before coming to this earth. We had jobs that we did in heaven much like we do here on earth. We knew our families, we knew we'd come to earth here and be tested. Hence, P was able to watch us from up above.