Pregnancy is SUCH a busy time! I mean, there's people like me with lists about what you should do before baby, there's stuff to buy and what to put in your hospital bag.
Not to mention packing every ounce of fun you ever wanted to have into the few precious minutes before the wee one comes.
Because there is no going back. Only forward.
Lots and lots of forward.
BUT, you also want to smush a prenatal class in there somehow.
You call your hospital only to be told you're far too late (they're booked) or they're only held on Tuesday nights (the night of your Yoga class) or you and your husband's schedules never match at a time that any one would hold a class.
This is JUST too hard!
So, you skip them.
OR, you take a quality online prenatal class from a nurse of 18 years, 15 of which has been labor and delivery.
But, where on earth can you find that?
Here:
That's right, I've just written my very own prenatal class, and this one even has a special twist!
You see, in teaching my own prenatal classes I've noticed that there are a few KEY questions that mothers and fathers should be talking about before the wee one arrives.
It is available now!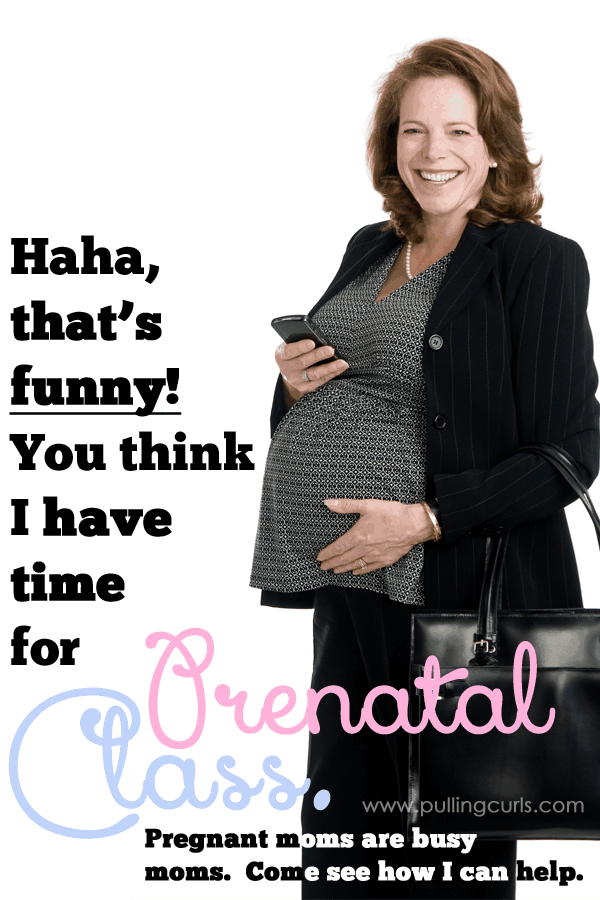 Want a taste of what it will be like — you can sign up for now for my prenatal mini class.
And about that prenatal class. Seats are limited, especially the first round. As a courtesy for being my "virgin" run I'm giving the class at 50% off. And I'm super excited to offer it at such a great price to my loyal readers!
Wondering if I know what the heck I'm talking about – -be sure to check out all my pregnancy posts:
[pt_view id="0fae3f0c8d"]