Here's Spencer… such a cutie. This costume pretty well involved me and the glue gun. I'm fairly sure my fingertips were consumed in the making of this costume.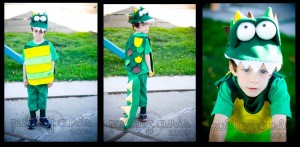 Here's Conner. He can fly, he can fly, he can fly. Please also note the sword, which can barely taken to any of our Halloween activities… but he just didn't seem very Peter Pan'ish without it. Didn't make the hat (borrowed from a friend, thank goodness)

And finally our little tink! I put the left photo on beause it looks like she's playing air guitar. She's just that talented folks. Really, it's the hat that makes it. I didn't make the wings here… thank you Joanns.

You'll just have to wait to see Drew and myself in person or whenever I get someone to take our picture. Mr Drew was gone this weekend, but his costume is definitely somethin' special.
Back to Neverland…..