I thought I'd share what happened in my glasses saga…. I went to the eye doctor with contacts that I could barely see out of (shh… don't tell the cops). I told him I wanted a new contacts prescription. He went on and on with some phony baloney about how I just won't see as well with contacts. I came out with contacts that I can actually see out of. He's given me the same shpeil the last couple of years but this year I was just not gonna take it anymore. Our optical insurance has a glasses program so I got one pair through that one (it was about 50 dollars after insurance through his optical) but then 39 dollar glasses.com had a sale where Drew and I both got some for 38 total… pretty sweet deal. You can see them all here: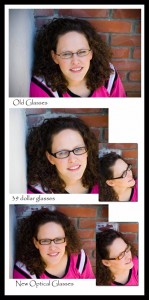 Top is my old boring pair and then you see the 39 dollar glasses. I think they're just fine, except I got the thicker lenses (to be cheap). I didn't know how the whole online ordering thing would work out and I didn't want to shell out a bunch for thinner lenses if it wasn't gonna work. So, now those glasses a a little hard to wear. Things are a bit fish-eyed on the edges. Yesterday I went to a couple of garage sales and I kept thinking there was a step down when there wasn't.
The bottom ones are the ones I got from the eye doctor office. I went out on a limb and got butterflies on the edges, but I ended-up really liking them. Still not sure about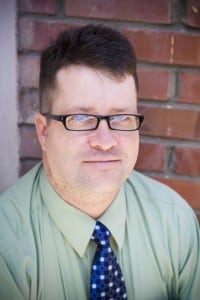 the butterfly though. It's also been rough just getting used to the thicker plastic frames. You see them all the time, which can get a bit over-stimulating. What do you guys think?
As a side-note to ordering glasses online, I didn't realize this but I have a VERY small face (and an obviously large brain, no comments from the peanut gallery please). Anyway, it helped to try some on at the eye doctor and figure out what size lenses look best on me. You can also find-out by measuring your current glasses. If you have questions, feel free to email. I was a bit daunted by the whole thing. Drew (pictured right) went a bit more haphazardly about the whole thing, and he ended-up liking them. It's fun to have something different either way.