You all think I want a job.
Oh, how wrong you are.
I mean, we DO want a job but we've had a lot of help with that.  We're so lucky.  Keep the prayers coming people….
BUT, I have a pressing matter.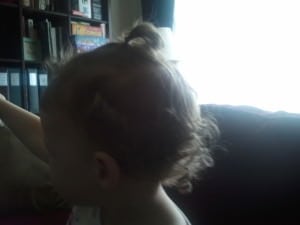 I, my people, am no good at girls hair.
My little boys had curls til about 18 months and then we chopped them off and turned them into men.
Of course, we'd never put clips in their hair anyway… although, I may or may not have toyed with the idea.  They did have beautiful hair. 🙂
Miss P is finally getting some curls (YAY, seriously those curls are bringing me so much joy lately, it's just sad) and her hair is kind of a skeewampus mess… lots of differing lengths and as long as it's curly, it doesn't really look like she's homeless…
So, now I'm putting a clip in or a piggie tail daily.  At least that's my plan.
Problem is, I'm awful at it.
I even looked on youtube for videos on how to do girls hair.  Problem is, I don't need a french braid that wraps around her head and comes out her ear.  I just need to figure out the right kind of elastics, or clips or whatever.
I just need tips.  Basic, simple, tips.
I'm sure all of you started out as hair novices.  Tell me more. 🙂