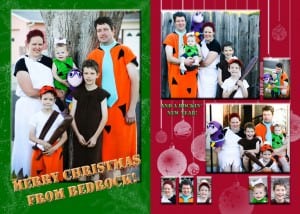 Last year's card. You don't think I'd spoil this year's card by
putting it on my blog already, do you? 🙂
I LOVE Chrismas cards. There's just nothing happier then opening that mailbox, only to have an old friend greet you. What a lovely feeling.
Hence, I send out my own. Frankly, I love going through my list of old friends, and thinking happy thoughts about each of them as I go through the list. I feel really blessed to have had SO many friends in my lifetime.
BUT, not all of them are on my list. I categorize them….
1. People who don't send cards. These people will find themselves off my list soon. Sometimes they hang on, if they're related to me… but frankly, if you don't give, you don't get… and my cards are worth sending me one. 🙂
2. People who just send a photo. Really? No message? I mean, I like it… I just don't LOVE it. Worse then these are people who just send a card and sign their name. Sure, I get a little warm fuzzy. Like wrapping your body in thread instead of yarn. 🙂
3. People who send a photo and a letter. I like this, it's nice.
4. People who send a photo and a funny letter. 🙂 I REALLY like this. I like funny.
5. And the best group of all, a photo, a letter AND a personalized message. I really try and do these on all my cards. Just seems a waste of a stamp if I don't at least say that I miss you or I hope to get together soon, etc. 🙂 Of course, our Christmas list got a whole lot larger this year, so we'll see how I do on this one.
Anyway, I adore Christmas cards. I wish stamps were cheaper, but I wish a lot of things were cheaper. Off to lick away….