Conner's been a really busy dude as of late. We've had pinewood derby and science fair all due within a week of each other. I thought I'd do a little pictorial post to share what all been goin' on.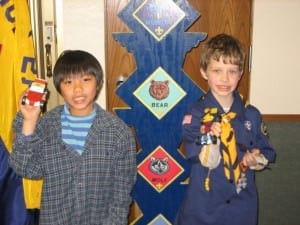 First off Pinewood derby. This was our first year to make our car, and while you can't see it very well in the picture — Conner chose a "natural disaster theme" — it had tornados, earthquakes and lightening on it. Sadly, our inexperience showed, and we didn't place but he had a great time anyway. Drew already has big plans as to how to weight the car for next year. Oh boy. On a brighter note, depending on when the race falls, I don't think we'll ever have to make more than one car at a time…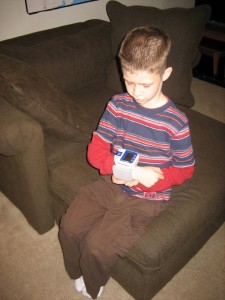 Secondly is is science fair project. He chose to use the blood pressure cuff that grandma and grandpa Erickson gave us. We all took our blood pressure before we worked out, and after. Turns out Drew and I, ours go lower — and my parents (who were also nice enough to participate) were totally random. So, he might not have learned a lot — but frankly, at least it's done. 🙂 I think he did learn about his pulse rate going up, and how some exercises make him work harder then others.
I've been working hard on my blog book. I'm really happy that blurb is slurping from Blogger again. It takes a LONG time, but I hope to get a blog entry on tips I've learned to make it better.