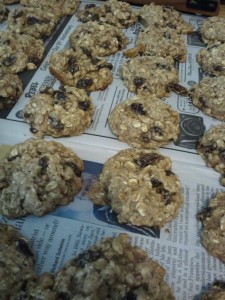 I really like to make cookies. I think it makes our house happier, but I don't love all the sugar, etc. that are in cookies. SO, I have been alternating between regular ol' delicious cookies, with something a little healthier. You might have heard me say it before but subsituting beans for butter was a HUGE concept for me… I thought it'd be gross. Turns out, it's not bad. It adds a ton of good protein and fiber into whatever you're making.
So, without further adieu, here are the cookies I'm making today:
Oatmeal Raisin Cookies (but instead of the 1 C of shortneining, I substitue 1 cup of cooked white beans). Makes for a 2 point cookie and I actually think they're better for you then regular ol' granola bars.
Give it a try!
P.S. These really are the cookies. Don't you love have phones can upload pictures to picasa?