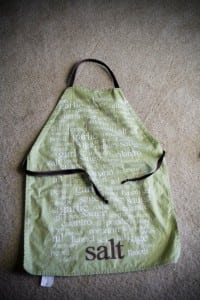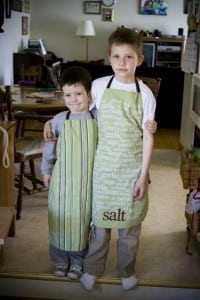 I've been pretty darn crafty lately. The kids were complaining last night that they didn't have aprons (actually, they do — but they're not functional in the slightest) so I made these adjustable aprons from dishcloths. We got a set of 3 dishcloths for 3.99 at Ross and then we drove to Joann's and picked out grosgrain ribbon for the ties. I found a tutorial for them here. I measured each kid's appropriate chest (which gave me the top measurement) and then from the top of their shirt to their waistline and then minused a couple of inches. That's how I decided how to angle the tops (so Spencer's isn't tying below his bum). It's kind of hard to explain. TOTALLY easy though. I haven't cut off the fabric on the back — I still can, but I kind of like that it's not going to fray if I leave it like this. I think my total cost for these was 6 bucks. For both — and I still have one more dishcloth. Pretty fancy eh?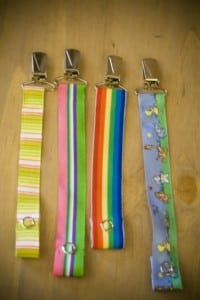 I've been obsessing over the need to make some binkie clips (the pacifier clips onto the bottom of these). J's just happened to have notions 40% off last night, and that's the majority of the cost of these. I think the suspender clips are about 1.75 after discount (2/package), and the snaps were like 2 bucks after discount. Total cost for all 4 was 6.21. I know people sell these on etsy for around 5-1o bucks each. I think it took about 2 hours to make all 4, but I was also chatting on facebook at the same time.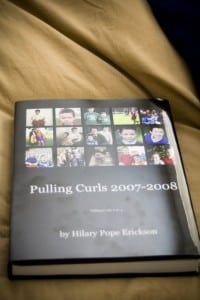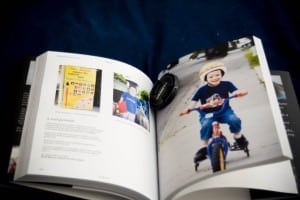 Finally comes my super fantastic blog book (looks like some greasy little fingers have already found the cover). I adore it, it's over 350 pages long and I love how many pictures I thought to include in my blog during those 2 years. MAkes it a great family history album. Total cost for this was freakishly outraeous at 100 bucks, but it's one of a kind and you won't find this one etsy. It take take forever, but I am glad I did it.
Anyway, I miss it when I'm not creative. I mean, my back still hurts from sewing those clips last night… but I do find a lot of joy in fondling the finished product. If anyone wants further tutorial in making any of these, let me know. Really — all were VERY simple (well, not the blurb book — but it's worth it).