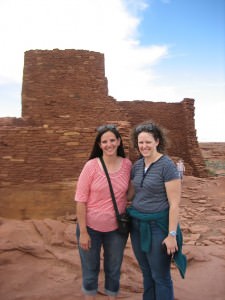 Oh man did I love college.
Wait, strike that. I loved the social aspects of college.
I loved band, living with other girls, going to dances, hanging out in the library, feeling the complete and utter joy of being my own person.
And I found the other person who made me who I am now.
She was quiet and thoughtful. She was the relief society president to my FHE "mom".
And the best part is that we really needed each other.
I needed her to talk about her testimony and how much she loved her family. And she needed me to stop thinking about getting married and think about having FUN. Lots, and lots and lots of fun.
I have a picture of her helping hold my wedding gown when I went to take bridal pictures at the botony pond. It's one of my favorite pictures in my house. There as just SO many women who have made me what I am today. So, thanks for the late night talks about everything that would really be important in my life. Thanks for letting me talk through getting married and if I'd get into the nursing program. Thanks for being there when I made SO many big decisions in my life. I adore you. I'm so glad we got together this summer. Love you!