Who do you call when you have a kidney stone?
Who do you call when you're in labor (or the 5 other times you THOUGHT you were in labor)?
Who do you call when you cut your finger off with your hand blender?
Why, Noona, of course.
It's hard not living by family. It's even harder with really small children that can't be left alone. There are times you feel trapped, and in emergencies you kind of are trapped.
And that's where Rowena came in, time and time again. She even watched Spencer every other week for like a year when I helped out in the classrooms.
She is amazing.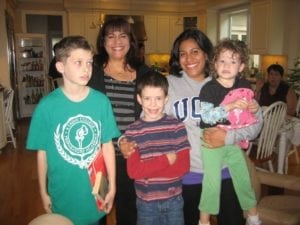 This picture is so Conner. Noona's on the left, J Mag. is on the
right, I'm kind of a fan of her too.
And when we went to California she built Princess P a Belle bed, and read her stories and became her best friend. She still asks when we're going to her house, or how to get there. I wonder if she's planning on running away from home…
She watched the kids when we had princess P. I will always remember that. That is the hardest thing for me when I have a baby — leaving the other kids. I cry a lot, and I worry about them. Such a huge life change that I am causing and they just don't have a clue. But they had their Noona, so all was well with the world.
Rowena, we love you and I am so thankful for all the times you helped us out.