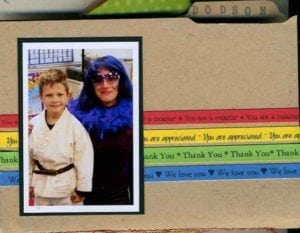 Miss D isn't even named Miss D anymore, but she always will be to me.
Miss D was Conner's 1st and 2nd grade teacher.
Sure, he had a great Kindergarten experience. His teacher really got me in the classroom and I met a lot of good parents, but in Miss D's class I really learned what learning was and how to really help kids who REALLY need it.
I think I slowly realized that school wasn't just about my kid. I think it's easy to get tunnel vision and just see what your own child needs and not what all those other kids need and a) how your CHILD can help those other kids and b) how YOU can help those other kids.
She is sweet and kind and loves children more then I knew was possible. And I was very lucky to get to have my child in her classroom for 2 years. And later her husband's classroom for 2 more years.
She was in my life at the exact right time to help me what I really want to be. Because being on PTO isn't just about my kid. It's about all those other kids whose parents don't go to PTO meeting. They don't have anyone to speak for them, yet they need us the most.
And she's always there for them. I love you Miss D.