Jumping off my thoughts from yesterday, fast forward 10 or so years and I recieve a calling to be in YW. I was asked to serve with a good woman — Kristen S.
She has the accent. She has the willingness to serve. She's got Young Women's written all over her. Me, not so much. I'd just finished my stint of working part time and was really hoping for some time "off" in my life. Turns out, YW is just what I needed.
Kristen taught me that church work isn't fun. It isn't something you innately want to do all the time. But, it still needs doing. That isn't to say that I didn't have a LOT of fun with the people I served with in YW.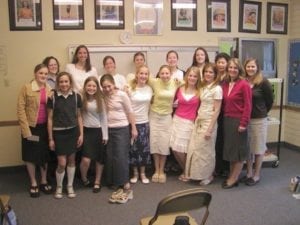 It was also what I needed to integrate into that ward. I'm not sure I knew how to serve prior to that. Sure, I'd had callings, lots in primary mostly… and I did that work, but I slowly realized what being a member of the ward was and how it could affect others.
I'm really grateful for that time in my life. I feel very lucky to know her. I feel lucky to have all the people that I served in Young Women's with, both leaders and girls. They are some of my very best friends out there.