Believe me, if you'd asked me a few years ago if I'd be saying this was one of the people I was thankful for in my life I doubt he'd be on the list.
Sure, he was questioned for 9/11 — but only because he gave Afghan refugees a lot of money and that just happened to go to the terrorists, but that's not why I'm thankful for him.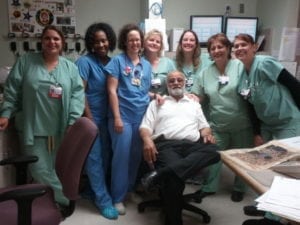 A couple of things. He was the first doctor who would come in the room and tell his patients how LUCKY they were to have me. What a confidence booster that is! It reminds me to be free with my compliments. Always mean them, but never reserve them when they are due.
Secondly, when we were moving he was my cheerleader. He consistently said how good the move was going to be for me, even though he would dearly miss me.
I needed that. I had so many people gawking at the fact that we were leaving the beautiful bay area for parts unknown (except we DID know the weather was going to be awful!). He seemed to be the voice that things would be alright, and backed it up with a lot of historical knowledge of people who had moved (pilgrims, etc.). It reminds me to be positive to people that are going through a hard time instead of questioning everything they are considering.
Dr Z is not of my faith. But he was a man who freely shared his faith and also wanted me to be his next wife. Not on my list of considerations, btw.
It just reminds you that good people come in many ways into your life, even doctors. Who knew? I am also thankful for ALL The nurses I've worked with as they have brought a lot of joy and thought into my life. I'm surrounded by good, good people.