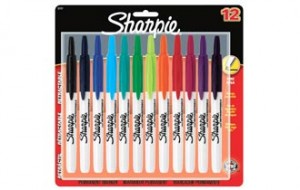 Alright, I have 4 nice little packs of Sharpies here — regular price over 80 dollars — what did I pay? Four (4). Nice.
You can too!
Office Max has a coupon in their weekly flier. You can go to
https://www.officemax.com/
and print one off or you can go
here
(scroll down for links to coupons — I got mine at Office Max.com — becuase I feel it's more official that way). Then, head on into your local office max, it does have to be the pack of 12, but it seems like most stores still have them in stock (I know the one near me still has a few — but they're up on top where their extra stock is). Take them to the register. The coupon says limit 1 and limit two, but i've stuck to my guns about being allowed to do 2 (Drew came with for visit #2) per coupon… and they've allowed it.
Anyway, feel the sharpie joy (we're gonna use some of ours to take to Disneyland to use in our autograph book).