Woah, woah, woah, woah, woah… (yes, I know it's Do You Know the Way to San Jose… but I'm a lyrical genius who would rather be in Monterey, and trust me, you'd rather be there too).


This last week's trip was to Monterey. We adore Monterey, we love the drive there and it's just nice being there. However, we usually do the aqarium, eat at Bubba Gumps and head home, but this time I wanted a new adventure.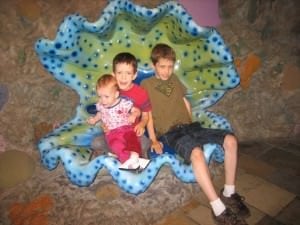 We, of course, went to the aqarium. That's probably a blog entry for another day. Needless to say, we love the aquarium. It's probably the best I've ever been to. Was bugged by the fact their new flamingo exhibit hardly had a word about flamingos, and was instead about global warming…


Maybe next year it will be about getting a massage, but I digress….


If you're in Monterey, you really should go there. It's pricey though, I think it's almost 100 dollars for a visit for our family.


But, then we decided to try something new. We went to a new restaurant, which was SO delicious and cheaper then the usual Bubba Fare (and lighter). Also, by going there we didnt' end-up having to pay to park… nice.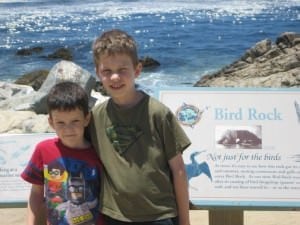 Then instead of home we decided to head towards Pacific grove… and boy oh boy are we glad we did. What a beautiful drive!
We stopped a few times, and Drew and the boys went down to the ocean climbing on rocks and watching the tide come in.
We also went to 17 mile drive, where the Pebble Beach golf course is (and you have to pay to drive it, stupid). Wow. That's a serious golf course! The US Open is there this year.
I kept thinking about how nice it would have been to have just packed a lunch and ate it by the sea. They have tons of picnic tables along the drive. {sigh}
Isn't life grand, and isn't it amazing how money doesn't make it turn? The drive was actually the best part of our day (although, I will also admit the bacon in my omelet was also amazing). Sometimes a little gas money, and just being together is all that a person needs. Also, a camera helps so you can capture some of the day's fun. 🙂