1. Teething tablets P broke her top teeth out recently and these little gems have been lifesavers. I haven't a clue how they were, other than amazingly. If teething is your baby's only problem — they totally work!
2. Woah bill, BYU TV comes-up with something decent! Actually, I think it's almost the show that the world is waiting for. Moms, making dinners for families that they can eat and enjoy together — it's called the Food Nanny. While she has a crazy Utah accent (which I somehow find comforting, and annoying at the same time) she has some good tips of what to do to get family meals going for YOUR family. 🙂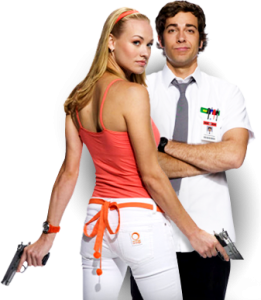 3. Chuck. I love that show. Drew and I BOTH love that show, which is fairly rare… I was so glad with the end of this week's show, and to prevent spoilage I'll leave it there. It's just nice to see a good guy win.
3. Wii fit plus. I'm really getting into this. I'm adding it as my easier cardio on a few days a week. It does get you moving, and you usually break a sweat. We got wii fit plus and I actually like it a LOT more than the regular wii fit (it just has more games and options).