Ok, I can't keep coming up wtih 4 things. How pathetic is that?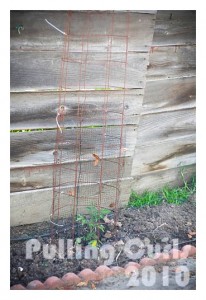 I will come-up with one thing today though. I LOVE our tomato cages that we made last year. I think I might have posted about them last year but they really are SO much better than those other kind. Our tomatoes tend to get LARGE and the other kind just kinda flops over.
These are made out of concrete fencing and they are sturdy little suckers.
One roll of it costs about 70 bucks (annoying, I know). Split it with a friend though, we, so far have made 6 cages and built a lattice with it, I think we have enough for at least 2 more.
We used bolt cutters to cut it (it's strong stuff, the regular wire cutters weren't doin' it!).
Then we bent it around. We used some of the "end pieces" to wrap around the other end to make a circle (does that make sense — we had some pokey ends left after we cut it and we used those to help hold the circle). We also used some zip ties.
Then, we cut off the "rung" portions on the bottom to leave stakes that we could drive into the ground. I have heard of people just tying stakes onto the bottom so they're a bit sturdier, but that seemed a bit like overkill. This way they're about 5 feet tall. Our tomatoes didn't get to the top last year (but this year we're composting!). I was careful last year to keep shoving in all the bigger branches into the middles section growing up so that it could contain them.
I'm glad we did it, they'll last for years and they help keep our tomaotes healthy! Tomatoes are one of our very most favorite crops. I LOVE fresh tomatoes, don't you?