I am not a huge Valentines fan.
I think couples love gets a fair amount of attention the rest of the year and for those of us in committed long-term relationships tend to have unrealistic expectations of our spouse.  No bueno.
So, we do the obligatory elementary school valentines.  Yay.
But the night is reserved for fondue.
Unless I'm working.  And then it's the night BEFORE that is reserved for fondue.
And that was tonight.
First there's cheese.
I use a recipe I found in Family Fun a LONG time ago.
It goes a little something like this (this recipe makes a good amount of fondue, plenty for the 5 of us)
1 cup milk
bring it to a simmer — about 2-3 minutes.  You could also add a smashed garlic clove (or if you're garlic lovers like us you can just do a tsp of minced garlic).
Toss 1 pound of swiss cheese with 2 T of flour.  I put all my cheese in a basic plastic bag and shake it all around til the flour is all around it.
So, back to the milk, it's simmering.
Then take handfuls of the cheese/flour mixture and use your wisk to wisk it in until it's all melted.  Then, another handful.  You want to make sure to do just handfuls, you don't want the milk getting overwhelmed by the cheese or it's hard to mix in.  You're going to need to wisk hard and fast.  Make sure you do some arm workouts prior to this. 🙂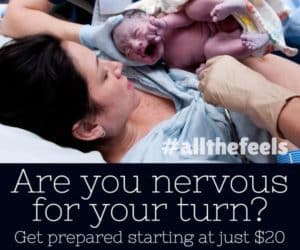 My recipe says 1 cup milk, but I'm thinking about doing 1.25 cups next year, it gets awfully gloopy, I wish it was more creamy.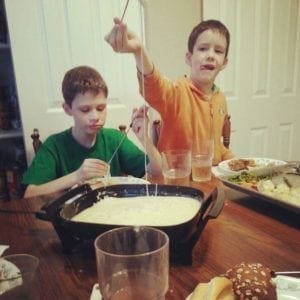 We then put it in our electric frying pan (our initial fondue set rusted so I am sticking with a multi-use tool) and keep it on low and dip away.  Our favorite cheese dippers are:
Bread (crusty is best)
roasted potatoes
roasted carrots
roasted cauliflower
roasted asparagus
red pepper
mushrooms
broccoli (roasted or not)
**Make sure you don't over-roast your veggies.  Mine over-roasted and were too soft this time, you want them to still have some crunch so they don't fall off your fondue fork immediately.
THEN, it's time for chocolate
3/4 cup heavy cream
1 bag (12oz) chocolate chips of choice (my kids prefer milk)
1 tsp vanilla
1 tbsp of butter
Heat the cream in a small pot over very low heat for about a minute (DO NOT LET BOIL, it will curdle all nasty-like) and then add the chocolate chips and stir until melted (doesn't take too long, maybe 3 or four minutes).  Add the butter and vanilla.
We serve this one just out of the pot on the table.
Favorite chocolate dippers:
snickers bar
strawberries
green apples
bananas
fake cookie dough (doesn't use eggs)  I can't find the recipe that I use on the internet, but these seem good too.  The key to this is making sure that you make it at least an hour in advance — smear it out on a piece of saran wrap, about 1 inch or so thick, cover it all up and pop it in the freezer — otherwise it won't work with the fondue.
One of our favorite traditions is to say something nice about the person to your left/right/across from you when you drop in the fondue.  I switch it up a few times while we're eating so that everyone says something nice about another person.  It really makes us feel the love. 🙂
Enjoy!
**I will say there is a reason that this fondue dinner would cost like 200 bucks for us at a restaurant.  I'd had a hard day at home with P, and Drew had a particularly ugly day at work.  I was stuck doing almost all the work while he decompressed and by the time this was done I was DONE.  I tried to leave it by the side but this is one you want help with ladies.  It's a lot of work.