Ahh, it's that time again. Frankly, nothing is my favorite today. I'm in quite a mood here, and so exciting — ALL the kids are home today, and Drew is falling asleep in meetings. It's a great day.
Perhaps talking about some of my favorite things will increase my mood (at least I hope)

1. My new layout on Losing with Lovers. Isn't it so cute? I like how they all match. It makes me happy. I like how the top reminds me why I'm doing all this crazy stuff. Lots of reasons.
2. My new Shoes. I know, I'm becoming a bit of a shoe whore… but I'm really hoping to find some that don't make me want to die at Disneyland. I plan to do a review on the workout blog about them after I've had them for a week or so. So far, so good, but I'm not really planning on having a super small butt thanks to them, I just want something comfy. As an exciting start to my review, they don't look near as bad in real life as you might think they do.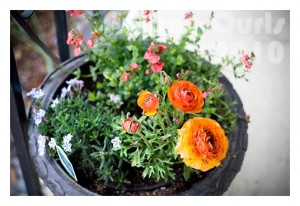 3. My new pot on the front door. Spencer and I picked out the plants on our date last weekend. He mostly likes the blue striped ones, we call them "BYU flowers" It makes me very happy every time i open our door, or glance out the window. Such great colors. I love pretty flowers. While I like them on my table, I love them outside where they keep on giving. 🙂
4. It's a SIP day today. While I'm not loving the kids asking every 5 seconds when they can play the wii (even though I have specifically deliniated when wii time will be possible) it's nice not to pack lunches, drive to school, etc. P was up a lot last night, and I'm sure he's having a nice snooze in his meetings right now. Good luck to him.
Happy Friday everyone, I'm going to try and keep mine happy. 😉