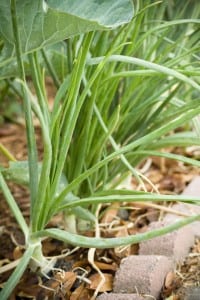 Our Garden has actually done pretty darn well this year. I LOVE our drip system. It has really cut down on weeds and obviously how much time I have to spend watering. If it wasn't for some nasty squirells, I think we'd have a better harvest — but I suppose feeding some of God's smaller creatures has its own blessings (which may have been negated by the words I chose to yell at them as I saw them rippping our corn out — but I digress). Above you'll see our giant green onion crop. These have done REALLY well, and it's so nice to just go out and pick one when I need one. I think I'm going to plant a new crop here soon for the fall.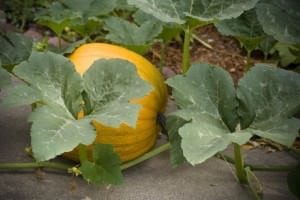 This is our pumpkin, and I actually had to cut it from the vine this past week. I'm really hoping it will make it til' Halloween. It's really big and I know it would be fun for the kids to have their "own" pumpkin to display.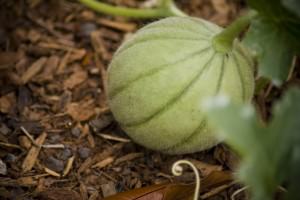 This is my favorite of the bunch. It's our canteloupe — we have a few on the vines. I'm really excited to see how they taste, etc. I will give another update when they're ripe (and larger than this).