Garden is well on its way. We finished all our drippers and we've planed most of the stuff we can do in early February. We'll have to wait a couple of weeks to do our tomatoes, and corn. The eggplant needs to be a bit bigger before it can go out.
Anyway, I got to thinking why I love the garden so much, and I realized that IT is where I do my remodeling, because it's so free and easy to do and I just enjoy it. I never move my couches, or paint my walls but I do all sorts of things in the garden, because I figure I can just tear it out and do something else.
I don't really even have grand visions of all the produce we'll have soon. Although, I hope I am able to can some tomatoes, that would be lovely. But kind of an added bonus.
Here's the other side of the garden's map… and yes, I am just this anal…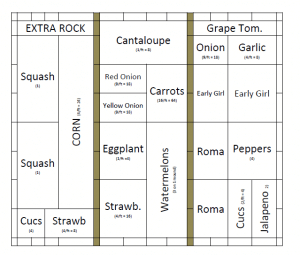 We're trying a bit of everything. We'll see what actually grows!