This post is sponsored by Buca di Beppo and TapInfluence
Last Saturday my husband and I celebrated our 18th anniversary.  I was was wondering if my kids ever consider how lucky they are to have parents who have chosen to stay together and make marriage work (I love my husband, and we have a great marriage, but it is tough).  I thought we'd celebrate as a family that we've chosen to stay together for 18 years!
Then, I saw that Buca di Beppo had a great family deal.  Bread, pasta and salad for only 40 dollars.
We arrived At Buca di Beppo early (as we always do, we're early eaters); there was already a wait due to a party. However, it was my own fault because it is SO easy to reserve a table online.  I saw that a lot of people had reservations, you can even get them the day of.  So, if you're thinking of heading in for a well priced family meal, grab a reservation!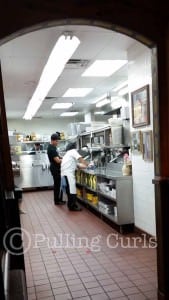 They even walked us through the kitchen on our way to our table.  Do they do that at all Buca's?  It was fun for my kids to see where they'd make our dinner!
Then, off to the table where we showed our waitress our coupon.  She knew just what the deal was, we quickly ordered and got our bread and salad within minutes.  My kids love Cesar Salad so we picked that along with Fettuccine Alfredo.
There was tons of salad, and everyone could have at least 3 pieces of bread (the kids did the math really quickly — bread is highly coveted at our house).  The Cesar Salad was crisp and tasty and the bread was delicious.  Crisp on the outside, and soft on the inside — just like I like it.  Buca has such a fun atmosphere.  During any time that we had to wait we looked at all the cool photos and memorabilia.  My middle child has a special love for the Roman Gods, and there were a few of those in there too.  Always nice to have conversation starters around you!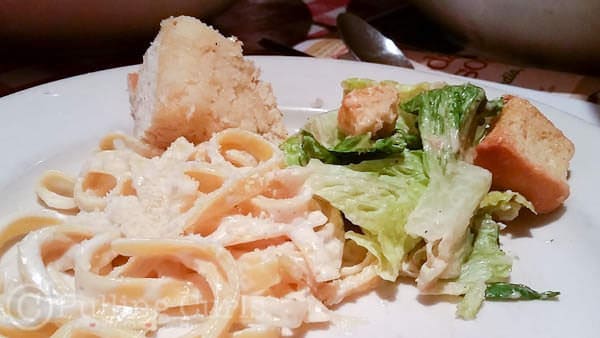 Then came the Fettuccine Alfredo.  Now, I have a husband and 3 kids.  It is advertised as enough for 4 or more.  We have 5 and we easily could've fed another couple of kids or another adult.  We had tons of leftovers.  The alfredo sauce (and I am a picky) was nice and creamy.  We all really enjoyed it.  This is a great deal at Buca di Beppo!
For just about 50 bucks we fed all of us, had a nice night out and even leftovers for lunch the next day. The fall is full of great times to celebrate:
Finding out new teachers
First Day of School
Celebrating any anniversary or birthday of sorts
Celebrating leaving for college
Buying new school supplies (a favorite of mine).
So, find a reason to celebrate, or just break from your ordinary routine with Buca di Beppo's 4 (or more) for $40 coupon!
This is a sponsored conversation written by me on behalf of Buca di Beppo. The opinions and text are all mine.