I hate to give Utah a bad name, just because of some crazy stuff (oh, and did I mention the 400 ads I saw for the HcG diet while I was there… and the plastic sugery bill boards… uh, huh, super righteous).
We had a GREAT time in Salt Lake City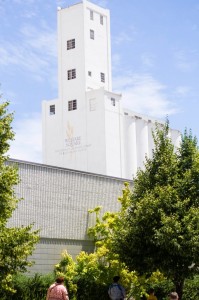 We visited Welfare Square. I was amazed at how our church cares for the whole person. We provide clothes, food, adoption services, employment services. I think we truly "teach a man to fish". The picture here is the church's grain elevator. While the whole reason they have that somewhat elluded me, I think it's just a good example. The church is willing to store for an emergency, and so should you!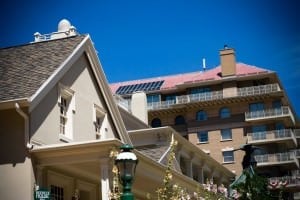 Then it was off to the Beehive House. I don't think I'd been to that since perhaps mid-high school. Facinating how a church could grow from being housed here into the 4th largest church in the US today! The tour was fairly short, AND it was air conditioned. Bonus!
Then, we stopped in at the church history museum. They have a new exhibit for kids about the song "I am a Child of God". I was struck by how much Paige loved all the baby dolls they had there. She picked them up so gently and loved them. It was the first real gender difference that I have seen. My boys would've been dragging them around by their legs… we could hardly tear her away from them. They had lots of other great activities for kids to do too! Some of them here are are replica of the pulpit our church uses for its worldwide general conference (I think Conner was giving a talk on responsibility). Also, a replica of the Angel Moroni from our temples. One on the bottom is the boys "holding to the rod."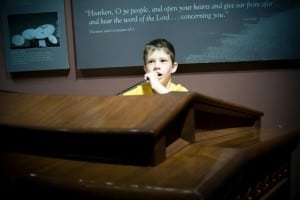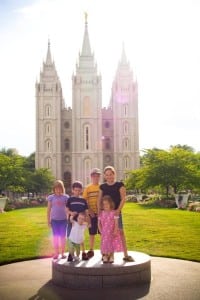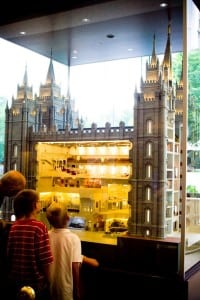 Dinner at the Garden Restaurant, on top of the Joseph Smith Meorial buildling, and then off to the new exhibit about the Salt Lake Temple. They've done the whole thing in miniature. Great for the kids who wonder what it looks like inside.
No visit is complete without a walk into the tabernacle, to see how the pioneers completed such an accoustically amazing building. Kids love to hear the pin drop and hear it echo through those old walls.
Temple Square is where our family started, and look how it's grown (but the heat hasn't changed one bit!).