Some avid readers might remember that I HATE my couch. It's holy. It's worn. It's slouchy. I hate it. Did I mention I hate it?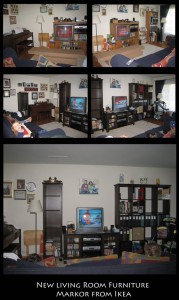 Anyway, I'm about ready to buy a new one. P is out of the phase of spitting up and while we're still going to spill stuff it's not as often…. So you, my loyal readers, I have two questions.
1. Leather or microfiber? Leather wears well, microfiber is comfy. I just don't know. I lean both ways.
2. Sectional or loveseat/sofa. We only have seating in our living room, we don't have seating in our family room (it's a playroom, and we have on big chair in there). I am thinking I really want a sectional… but will I regret it? I just want lots of seating. Mostly, I don't want 3 kids on top of me on the couch. Although, I doubt that's super likely to change. 🙂
Anyway, I plan to keep it in its current formation. We don't have a lot of room in it — it's a long rectangle as you can see here. The exersaucer just moved out (and it was in the plae where the swing was in these pictures — which are when we put our new furniture in last year) so I'm ready to fill in that area with something lovely.
YOU, READER. I NEED YOUR HELP. What to buy, what to do. Assistance please. Comments. Now. Locals are welcome to suggest places to shop, as well. 🙂