Bring on the coffee and doughnuts because I am addicted to reviewing our finances.
Some of you might remember that Drew initially accepted this job at 80% pay (because he only "worked" 80%… sure, right). Last year was a "lean" year, although I must admit it probably isn't going to be much better until he's graduated but it's true that month to month is much better.
So, I was updating the budget. A few things were creeping in monthly that were necessary, but not on the budget, so I fixed that. I'd like to budget for most everything, even small payments like school lunches and stuff like that.
Because I am extremely anal I thought it might be fun to have a pie chart and see where it all goes: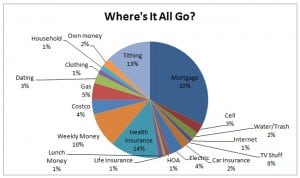 I guess you're supposed to spend less then 35% of your income on your mortgage. This doesn't show any of the money that we're savings (aka, giving to ASU at each semester). I hate that Health Insurance payment. Especially since we so very rarely use it, but it's a necessity. That's just for me and the kids, since Drew is fully covered by the school. Weekly money is spent on mostly eating, along with the costco budget.
Anyway, I'd love to know what your numbers show. It's facinating to me…
Because I am a loser. Are you?