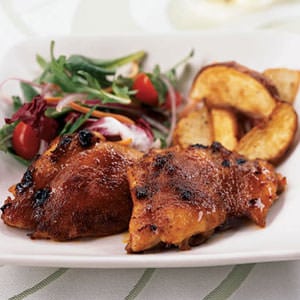 Tonight I made Spicy Honey-Brushed Chicken Thighs.
They were SO good, and SO yummy. Everyone really liked it. I had it with roasted asparagus and some homemade rolls.
Sprouts often has chicken thighs for like 1.50/lb so that is a cheap, great dinner!
BTW, I LOVE cooking light. It's my favorite magazine that I get. I love how they still have a little bacon or butter in their recipes, so you're still satistfied but not drowning in it.
I also made cookies made with beans (lowfat chocolate chip cookies in that handout) again. They are delicious. Sometimes 90% of eating healthy is just trying new things. You know. 🙂