I know, it's really shocking. Me, this far behind on the blog. I did have to share some of our pictures though. This one is of the day Santa packed our bags and sent us to Utah (I finally found our tiny camera, pretty fancy eh?). Sadly, like most photos this one doesn't capture how excited the boys were. Let's just say church was a loss.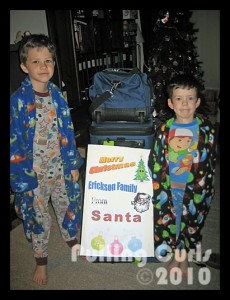 Here's P and all her Christmas glory. I loved her little jammies (there's reindeer on the feet, if you can see them, she has a matching one covering her bottom). She loved ribbon, and I was so excited to FINALLY buy someone a doll. She will love it, I am sure of it. 🙂
And, finally the boys in their Christmas jammies. I love Spencer's, he also has a Woody set.