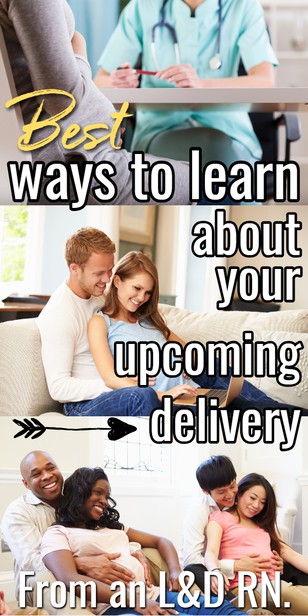 Having a baby is serious business. But, it seems like it's a secret, mystifying screen that it dwells behind. How can you best learn about your upcoming birth?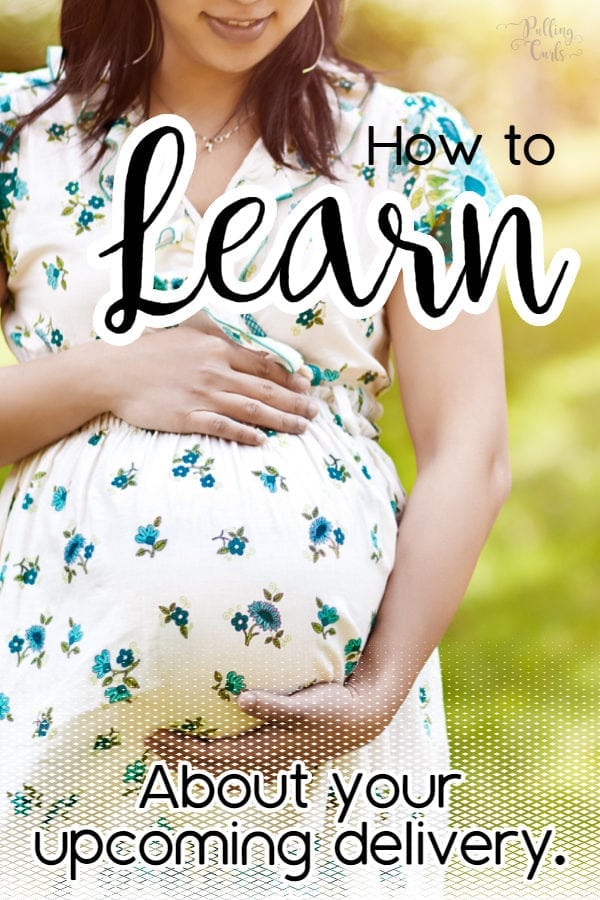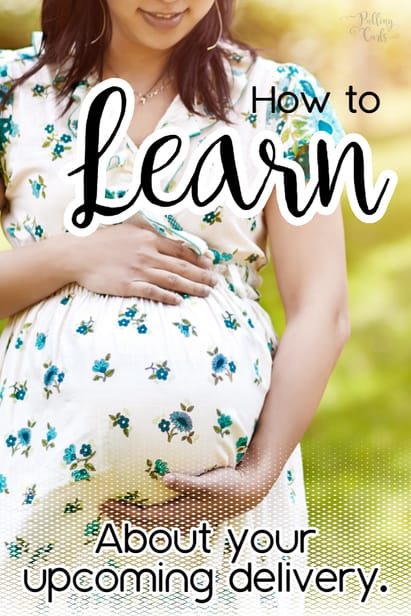 I must admit, that labor has been shielded as an area of unknown for a long time. Men weren't allowed in and it wasn't lady-like to talk about it. Thank goodness for the information age — there are lots of books you can read and things you can do prepare for your upcoming delivery.
**If you're looking for the BEST way to learn, don't miss this one created for busy couples to get prepared on their own timeline on their couch!*
Books
Now, I feel like the landscape is peppered by books that will help you laugh about your upcoming delivery (which is awesome — I loved The Girlfriend's Guide to Pregnancy), but it seems like it's difficult to find a book that balances engagement with actual facts about your upcoming birth.
I did like the "What to Expect" books — they're especially great giving you week by week info (much of which seemed irrelevant to myself, but maybe that's me).
Websites
The Internet is full of valuable information. I read tons of pregnancy articles, and you'd be surprised how often they are gob-smackingly-wrong.
Glaringly wrong.
Totally wrong.
Pitocin won't kill you, delayed cord clamping isn't the panacea to the world's ills, there is no actual way to prevent tearing at delivery…. and the list goes on.
It's important to find a site that is accurate. But, also, often — those sites are really vague as the pregnancy landscape is FULL of legalities that we need to tiptoe around. The reality is that often, you just need to….
Talk to your doctor
This one is REALLY important, and if you have a doctor who doesn't seem to have time to answer your questions, then you might need to look elsewhere for care. A big part of their job is to teach.
Your doctor knows you and your history. They can give info best based on YOU. You lucky duck! 🙂
Related Post: Should you hire a doula
Groups
It's normal to talk about pregnancy in groups — both online (think Facebook groups or forums on websites). Heck, I even run on my own Facebook group where people answer questions.
The thing is, that CAN be helpful. Or, sometimes it's a "my worst story" type of sharing, so you have to be careful of that.
Groups can certainly help you sort of ascertain what the "norm" is — but again it won't be based on you, and viewpoints can be skewed.
Prenatal Class
This is the gold standard of prenatal learning. It also goes by the name of childbirth classes, hospital classes, delivery class or pregnancy class.
A nurse, or someone who's certified, teaching you what to expect in your delivery. In most circumstances it covers:
Third-trimester testing
What to call the hospital for
How to know you're in labor
What to bring to the hospital
Labor progression
Things to expect at delivery
Pain management
Cesarean Sections
What happens AT delivery
What to expect after delivery
Things to watch for when you go home.
Many classes give brief glances to most of these areas but really work on one PARTICULAR area, which is awesome if that's what you're looking for.
A great class will give just the right amount of information on each area. So that you're prepared, but not over-prepared or scared.
Also, if you'd like to ask questions — I'd make sure to find a class that allows that.
I taught in-hospital classes for a while. But, it just didn't work for me — the same reason it doesn't work for most of my patients. Tuesdays at 6 pm is a wretched time, and the traffic is HORRIBLE. The chairs are hard, and I knew we were wasting time with each couple's weird questions that would have been better saved til' the end of class.
So, I created an online course. It goes through all of those things, in a way that is probably better than my in-person classes because I was never distracted by something or unable to get my media to work, etc.
It's created for:
Busy couples who want to easily work a class into their busy schedules
Women who want to be prepared, but not scared about their upcoming birth
People who place a high value on accuracy, rather than pushing an agenda
I'm really proud of it, and we've had hundreds of people go through it and absolutely love it.
"I thoroughly appreciated your experience and opinions and the way you communicated them through the class."
"This class is amazing. I don't know what I would have done without it."
"My husband is an accountant and our due date was shortly after the tax deadline so in-person classes just were not an option for us. This allowed us to do it whenever he was home which was SO helpful!"
Anyway — I think most people think they NEED to take a hospital class. And there's nothing wrong with that — but there is no reason to stress out if it doesn't fit your schedule.
Now is the time to click over and see if one of the THREE price points fits your budget. It's great but read these childbirth class reviews.