No, I didn't commit suicide by plugging my toaster back in and trying to use it.
That particular toaster is now set for the garbage (do you think I can recycle it?).
ANYWAY, Costco had a lovely model with a 10 dollar manufacture's discount on it, so I snatched it up. It's a little wider (it's a 4 slot) but I think it'll be better then what we had, and more safe (and yes, I can return it if I ever hate it).
We actually had a great day yesterday. I planned a little train trip for my friends and our kids. We rode the train (cal train is double-decker here) and had lunch. HUGE fun, huge. We all had a great time. I thought I'd even post a picture here for those of you who don't think I have friends in CA. Shocking, but I do know a few people off of the internet. Surprising, I know. 🙂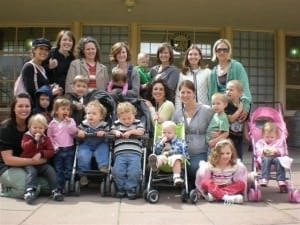 Went out to dinner tonight to Ihop (kids eat free on Friday nights) — Conner's choice for a good report card last week. I am afraid I didn't each QUITE as consciously as I would've liked. I mean, I ate less then half — but I was still VERY full. Good news, I lost about 6 pounds in 10 days. And while I in no-way expect that to continue, I was feelin' very, very fine.
Ok, one last thing. I did a photo shoot — you can see it on my photography blog (gonna post pictures there as soon as I'm done with THIS entry). I think many of you think that I take good pictures because of my camera (I have more control over my photos because of my camera, that is true) — but if you looked at these photos straight out of the camera, you can't even see the kid…. so thanks to lightroom I was able to salvadge them — I thought I'd share one of the before and afters here. Can you guess which is which?
P.S. Shooting at noon-day sun isn't my favorite. But I have quickly learned you can fix bad lighting (sort of) but you can't fix an onry child (at least, not without the fruit loops showing up in the picture).