I know, you're all dying to see what my inbox looks like, and instead of beating my children this morning, I decided to take pictures of it. As seen here: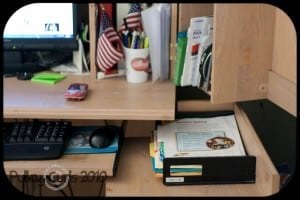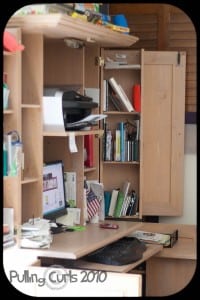 That is our current computer set-up. It's an armoir that is supposed to close, but this one doesn't really… I guess if I HAD to. We're looking into a new situation for ourselves.
Anyway there it sits.
This morning I went through these items:
1. Cooking light was sitting there for a giveaway — stay tuned on Monday (it now rests at the bottom of the pile, so I can remember to do the drawing for it on Thursday AM.)
2. Spencer had a bunch of school papers. Went through, many into the trash. Trying to get him into the routine of just putting it all in there. It should help both of us.
Again, I like it and I don't think it's what they had envisioned for it but our "office" is strung out between our actual office (slash, guest room, slash craft room, slash crap room) and the computer in the playroom. Mostly because I think it's easy to get stuff done in the playroom while the kids play.
Ingenius, isn't it?