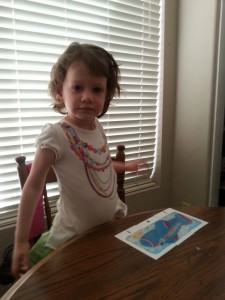 We are slowly moving away from the world of sight words and sound out words. That's been the majority of our flash cards up until this point. Now it's time to get on a few other items. Here we go!
Today it was word puzzles. We've done flashcards here and there before, but now I am hoping to do them every time we work on lessons. I have a LOT of different sets. Lakeshore (or whatever local learning store is close to you) has a lot fun ones.
SO, the set we used has a noun on one side (aka, cow) and then in black and white on the other side (so the kids don't get confused) it has an adjective. So, like sad, or wet or whatnot. I'd make her use them both in a sentence. So, "The cow feels wet." I am hoping she starts to come up with some more imaginative sentences, and if not we'll take turns coming up with the sentences so I can model some more fun ones. Aka, "I don't like wet cows, they are slimy."
I set the timer for twice her age (it's 7 minutes right now, but soon it will be 8) and we just plow forward for those 8 minutes. Somehow that is the magic equation I have found. I don't want her getting bored, but I want her engaged and enjoying it.
And then, we counted the sets she'd done and she got that # of skittles (which, today was 6). Horray! It keeps her excited for lessons. And, for 6 skittles, I think that's worth it.