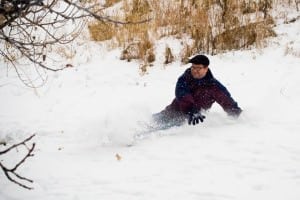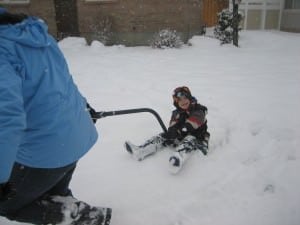 One of the most exciting parts of going to UT for Christmas was that my kids would be able to see SNOW! We never get snow here so it is pretty darn exciting. In fact, I was talking to an adult on the playground the other day who said she'd never seen it "snowing" in her life til' just this past Christmas.
You forget how magical it is to watch it snow. It does bring atouch of "miracle" into your life. So soft,and cold. Did I mention cold? Esp. since we don't have real "winter" gear for our family. I brought the kids rainboots and then we used several pairs of socks each. The snow was really powdery, and not so great for making snowmen. My dad did come-up with the engenious idea of packing in a bucket and making it more like a sandcastle though. You'll see the nice picture of me dragging Spencer around on a shovel because we didn't want to drive up to the snowhill (or, frankly, walk up the snow hill with our whiny kids — it is a REALLY big hill). It made for more snow-spirnkle fights, rather than snowBALL fights. Either way, it was fun.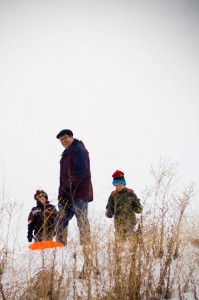 I think Conner enjoyed it the most. He really liked building stuff and knocking it down. He sledded at lot in Idaho (because those grandparents have a self-respecting snow hill) even if he was almost to frostbite by the time he came in. Either way we really enjoyed it. I didn't enjoy driving in it. I too quickly remember all the 4-way stop signs I slid through. All part of the Utah childhood.