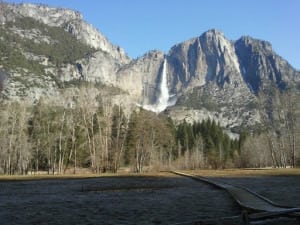 I am typing this right now as we leave Yosemite. I made our reservations months ago, before all this mess that is our life. We like to leave for at least one of our breaks, & we haven't been here in ages.
We have had a great trip. Really good. I have million pictures to hopefully have tomorrow. We needed a good trip. A little peace. Just what the doctor ordered.
But as we've spent the last 3 days here I have seen so many parallels in nature to life.
Right now we are driving next to the Merced river. In some areas it is so peaceful, and deep. The water is so clear ad it's so nice to look at, but head just a few miles downstream and it is a raging mess bouncing off giant boulders.. & i actually like watching that even more. It's cool to see it pour out from behind all the boulders and slam onto other ones. I could watch it for quite a while.
The mountains are amazing here. I love how each national park has its own look. Zions with the red, yellowstone with the gysers, canyons of many colors, arches with the great rock formations. But, what creates all those things? Friction. Be it wind, water, glaciers… they were rubbed to the way they are today.
The vegetation here is amazing. These tall, tall trees. I love the lone giant trees on the top of the hill, or the ones on the very edge with roots dug so deep that it can withstand all the pressure to come down.
National parks were our thing growing up. I have been to SO many of them. Much of it asleep in the backseat, complaining that "if you've seen one tree, you've seen them all…" but could I see how mother nature was telling me my life might be both harder & more great then I had imagined.
We can learn so much from nature. & I am SO glad we were ale to come here & see all this. Just what we needed. 🙂 now, back to reality, with the reminder that friction makes things interesting. I like how all the guidebooks here say that you need to be prepared for the weather to change at any time, & you should carry chains. You do need to be prepared for things to change @ any time. What are your "chains"? We saw this several times yesterday as we went from sun to snow within 20 minutes a few times. Are you prepared & are you ready for incoming "friction"? Am I? 🙂
Published with Blogger-droid v1.6.8