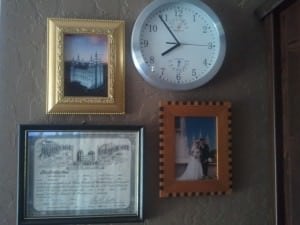 Today marks 14 of the longest years of my life.  No kidding.  I'm quickly coming up on the number where I've been married as long as I was single.  I mean, not THAT quickly… but it is surprising how quickly it's gone.
Drew and I got married on a HOT August morning in The Salt lake LDS temple.  He was 22, and I had just turned 21.  Thank you very much, I could sign my own marriage certificate.  Something I did with pride.
A great percentage of my life, much more then half, of my life has happened since then.  I graduated from college, I've had babies and moved, and jobs, and more jobs.  Drew and I basically grew-up together.
Lately I've thought long and hard about how that one decision shapes your entire life, and if I'd actually considered how much it would change in my life.  Is it possible to consider that?
Doubtful. 
You just can't see down the line about his DNA and his own job plans, dreams, hopes, aspirations.  You just can't see that far.
It's funny.  I see some people who think through marriage SO carefully, maybe too carefully.  And then you see so many people who just jump into it.  I think it's rare to find the couple who thinks about it carefully and THEN just jumps.
Part of it HAS to be a leap of faith.  That he'll stay faithful, faith that he won't make decisions that ruin your life, faith that things will work out.
Anyway, 14 years later things are still going strong.  I feel so much for Drew.  We've been through a lot this year.  I'm hoping for a super calm, normal year that doesn't involve me lifting any heavy boxes.  I'm glad I made that decision oh so many years ago.  We promised something BIG on our 15th, but it looks like that's just going to be Drew going to graduate school.
It's always something, isn't it?
Happy anniversary Mr. Erickson.  Love you so much.  What a great team we make.