Can I just say how CUTE these guys ended-up? I must admit it was kind of daunting because I hadn't used my mini muffin tin for quite a while, but the teachers had been complaining about the amounts of sugar that parents were bringing in for birthdays… so I thought I'd try this. The results — the teacher liked them so much that they took an example out to show the other parents.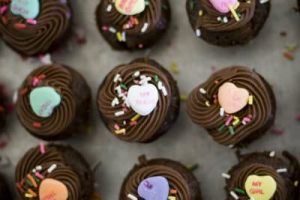 From Pulling Curls
So, I did the batter just like any other batter, with the help of my friend Betty Crocker (btw, cake mixes, cookie mixes and canned frosting are all buy 2 get 3 free at Safeway this week — coupons availble at betty cocker.com — fyi). I used my cookie scoop to dip them.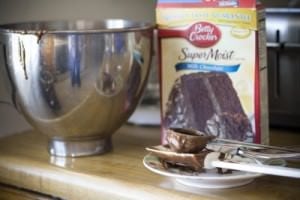 From Pulling Curls
The one thing I'd learned from my online query is that you don't want to fill them too full… so make sure like with your regular muffin tin you just do 2/3 — you can also see that mine are varying sizes, but it wasn't as noticable once I frosted.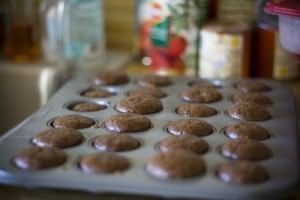 From Pulling Curls
I baked them at 350 for 10 minutes. As I looked online, this seems pretty standard. I ended-up doing 3 batches of 24 muffins each. BTW, they didn't stick at all the first time (I sprayed the tin with pam prior) but they did stick a bit thereafter, but a quick run around with a knife helped them to pop out. I would recommend re-spraying each time with Pam, but they will still most likely stick — unless of course, you find some tiny wrappers, which would be great, but I didn't.
From Pulling Curls
I'd let them cool in the pan for about 5 minutes, and then put them on my cooling rack, then it was onto a cookie sheet with wax paper.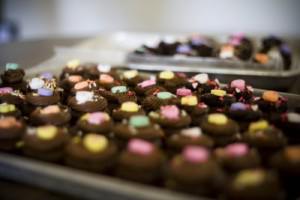 From Pulling Curls
I used my largest star tip from my cake decorating set. You'll want a large tip for this, otherwise it just takes too long to frost them all (believe me, I tried). I used a basic buttercream recipe, but the one I did only had 2 cups of powdered sugar — I should have doubled it, or at least 1/2 again. I ended-up having to resort to canned frosting to finish. Voila.
Honestly, I think they'd be a fun FHE treat. Esp. if you found a recipe that only made 24 of them. It wasn't near as hard as I thought it might be. Total time was around 90 minutes, which included the cooling time between batches (if you had more than one mini tin it would go faster). Spencer had a great time helping to decorate and putting the sprinkles on.
And I've only had 4 of them. Go me.