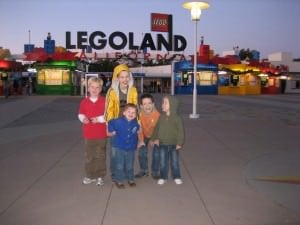 The miracle for this week happened over the weekend, because Santa reprieved my kids from a weekend of cleaning out grout (and we have a LOT of grout around here) to go to LEGOLAND and stay at the ever-beloved Shipley household.
And there was much rejoicing.
But perhaps the firmer miracle is that we have amazing friends. I'm sure you do too, but I can't imagine having better friends. We haven't ever lived near family so we have always counted on the family that we've chosen to "be" there for us, and now they can still "be" there for us a whole state away.
Wish she was closer though. Love that Becky. She is truly a soul sister.
In other news, while Legoland was crazy fun that place is INSANELY overpriced. I think someone needs to tell them they're not Disneyland, but they think they can change Disney prices for it.
In that same vein the park wasn't crowded at all. The weather was great and the kids had an amazing time. A perfect weekend.