Lara texted me this fine AM at 6:30 in the morning… and I was like, "OMG, my post is on her blog today… I need to write something witty on my blog." And I drug myself out to my computer to do just such a thing. Of course, I'm pretty sure she was getting me back for texting her at almost 11 pm last night. We're just getting used to this darn time difference.
I'm fairly sure I've linked to Lara's blog more than any other, for we have been blog buddies from the very beginning. Really, like the first week or so. I saw her blog link on the 2P's message board and I clicked on it, and for a few days we literally had the same blog topic, every. day. We are sisters from different wombs. She is there for me in ways that other friends just can't be. She gets me. In an oddity, I am more like her husband and she is more like Drew, but we totally get each other, always. It doesn't hurt that our husbands are both in the music business, we have kids almost the exact same ages and we're both from the heart of happy valley (I went to high school with her husband — and she knows Drew from music classes at BYU). Sadly, the story could've gone a whole other way if Lara had been a Music Dance Theater major at BYU. I just couldn't be friends with a Young Ambassador. Sorry. Luckily she did vocal music and while she loves Opera, I can forgive that. Almost. She was actually the very first person I called when I found-out I was having a girl. Even before I told my mom. Sorry mom.
For those of her readers who clicked over here — Lara's doing great. I actually added text messaging just so we could stay in touch while she is on her move. It sounded like the drive wasn't too horrible, and they're settling in to their new place (which closed just fine, phewsh!). I think her internet will be up on Friday. I'm sure it's killing her. 🙂
Yesterday we went to the Boardwalk. Honestly, I don't think we'd been for like 5 years. I think I went when I was first pregnant with S and being hot, and considering fried twinkies just didn't go over real well for me…. shockingly. They have 75 cent nights on Monday and Tuesday, which is a great deal (rides, hot dogs, cotton candy and drinks are all 75 cents) and it made for some good times for the boys.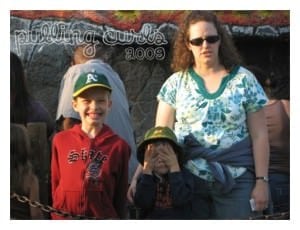 The sad news, my boys take my timid genes. Spencer would get in line for a ride, and about 3 steps in decided he needed to go potty, or cry, or both. When we went to 6 flags I was just fine with him getting out of line, but somehow, last night, I decided it wasn't fine anymore and we pushed him. Drew did a lot of sweet talk, finally he'd get on the ride (lines weren't too bad last night) and he'd love it. Slowly he realized that perhaps we wouldn't lead him astray. I was careful not to put him on rides that he would think was awfully scary, but he enjoyed the ones I did hand-pick for him. In other news, the kid's literally a menace on the bumper cars, it was hilarious! Anyway, this morning after I was awoken to the text (maybe I need to turn off the sounds with texting) I was realizing how God does the same thing. He's not going to put us on a ride that's to scary for us, but I am often in the "line" getting ready to cry that I need to go potty.
After sending them on a ride Drew and I always quick to make sure they realize what amazing ride-pickers we are and we know what they'll enjoy (funny, they have yet to fall down and worship us) I know God hand-picks things for me that I wouldn't pick for myself, that's for sure… but I need to remember he always has my interests at heart. Just some rides look awfully scary, don't they? I also need to remember get a funnel cake every now and then, although I'm not sure how that fits into my analogy, I had my first one last night, and it was awfully tasty!